Leather Storage Caddy - Large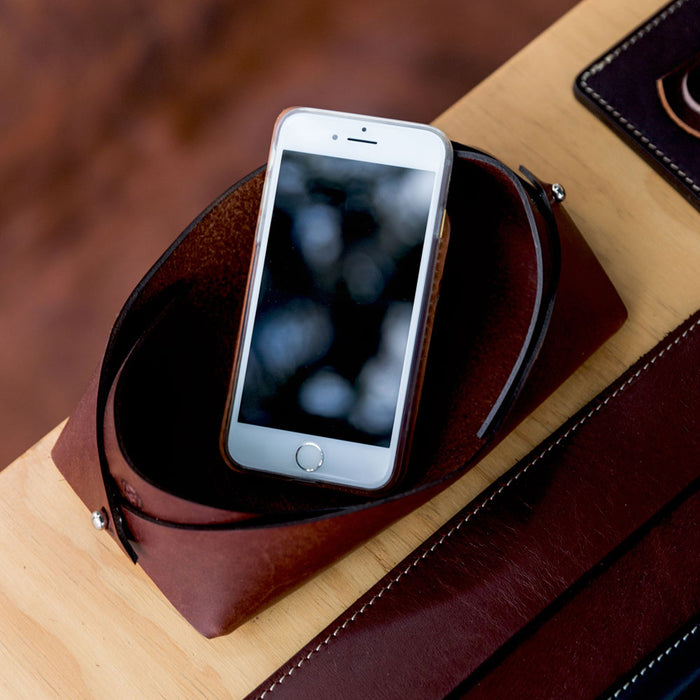 This Leather Storage Caddy makes for a very nice place to put your keys, phone, glasses, wallet, or just about any object that you don't want to lose. We imagine it on a night stand next to your bed or a coffee table in your living room. Wait... it gets better! You can take it on the go- just undo the sides from their stainless steel button studs and the whole piece of leather will flatten to fit into your travel bag. It's made from premium quality latigo leather that has a rustic luster that promises to gain even more beauty as it ages.
Features:
- Solid stainless steel end buttons
- Weather resistant leather
- Backed by the Make Smith Lifetime Guarantee (see details)
Dimensions:
- 5.5 in. x 8 in.
Leather:
Premium oil-tanned latigo leather. Please note: As leather is a natural material, each piece varies slightly in texture and color.
Embossing Instructions:
1. Add Monogramming to your shopping cart along with your desired leather item(s). Your order will reflect this added service during the checkout process.
2. During "Checkout" in the "Special Instructions" field type the 3 letters you would like us to emboss. For example, "M D J".  We only emboss in one font, all uppercase, with no punctuation.
3. Repeat these steps for each item being embossed.
4. We will follow up with you by reaching out with a phone call and/or an email to confirm the embossing details.